16 days, 98 footpath bridges crossed, 948+ donkeys and yaks/naks and infinite Himalayan mountain ranges…
It was my friends Callum's birthday on March 7th. The whole reason we were here in Nepal. We met in Hoi An, Vietnam late 2018 and he had the idea of doing EBC (Everest Base Camp) for his birthday. When I got wind of the idea (over a few beers) I couldn't of counted myself in quicker.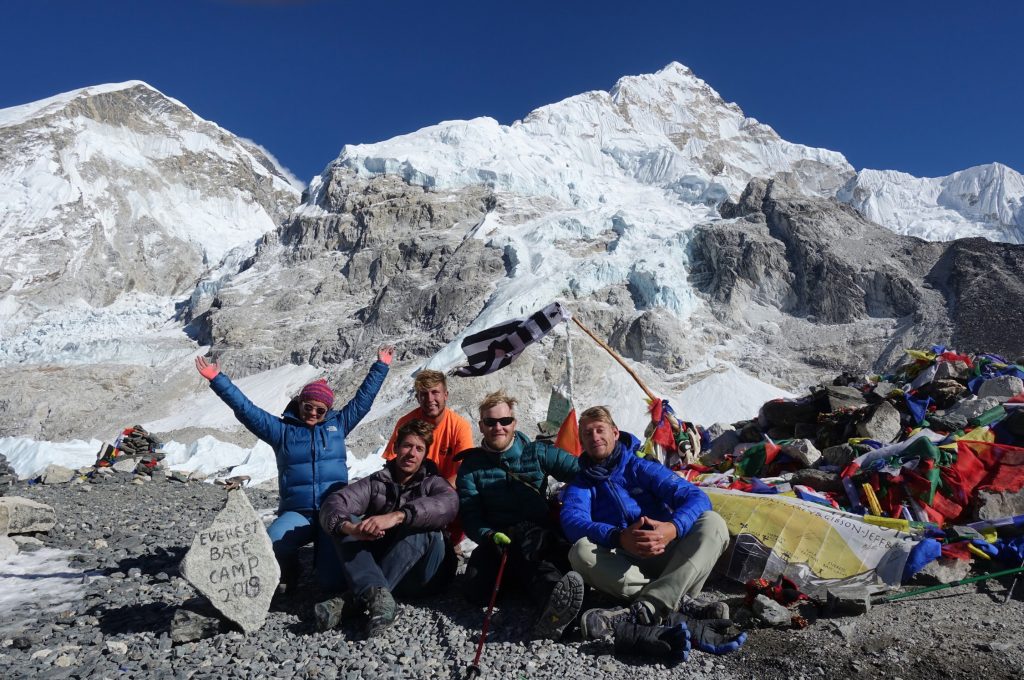 I found myself booking a flight and arriving in Kathmandu to which I was averagely (understatement) prepared for the trek. I knew what had to be done ( just walk up a mountain?) but had no trekking gear from my last 9 months of backpacking around Asia. Luckily for me, Thamel (a neighbourhood in Kathmandu) is a thriving area full of all the equipment you could ever need.
As a beginner hiker the challenge was to obtain the optimal amount of gear that I could fit in my backpack, and also be prepared for the any inevitable situations that may occur.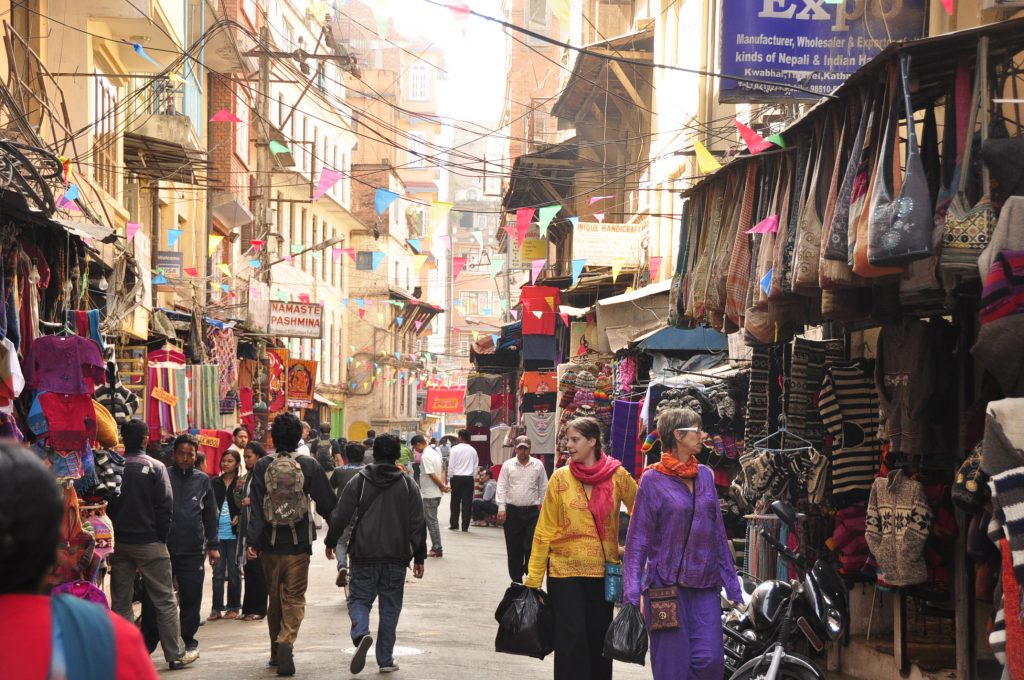 Nepal's tourism industry makes up for the majority of income for the local population in Kathmandu. For some context, in 2012 there was 598,204 foreign tourists who visited that year.  The government of Nepal has recently declared Visit Nepal 2020 with the aim of bringing in two million tourists by 2020.
The trekking season brings in approximately $2,000 per month for the average non-summating local sherpas which can be compared to the $50 per month the average Nepali makes.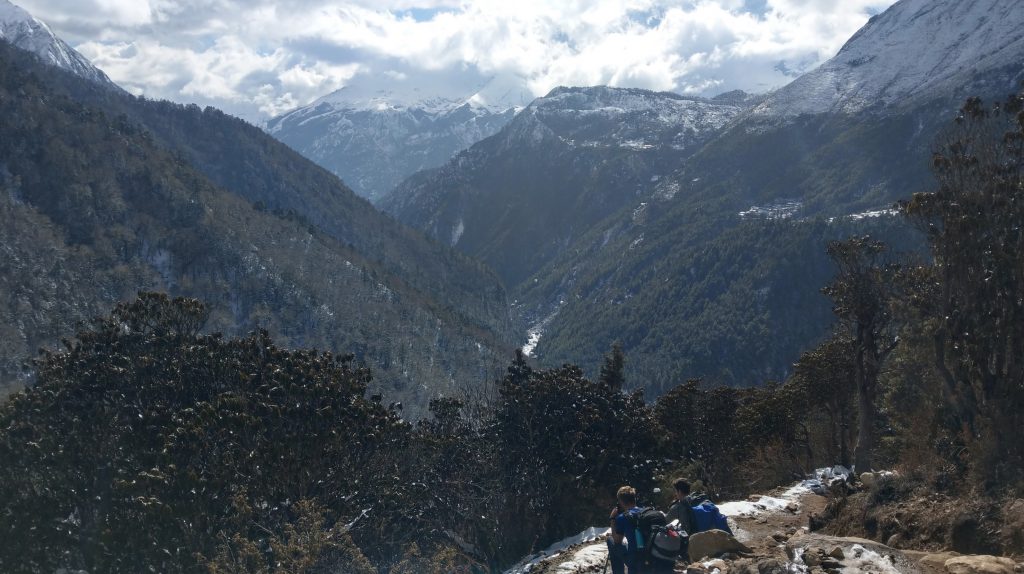 We spent a few days in Kathmandu speaking with tourists/locals who had experience or had personally done EBC or similar treks (Annapurna Circuit, Ama Dablam, etc), we researched the best stores and prices for each individual bit of kit. Because myself and Callum have been travelling for some time, the idea of doing this on a budget was appealing, although attempting a trek of such stature it was also important we didn't skip corners and get equipment which would break, not be warm enough, and wear easily etc.
We managed to find a store which would let us rent a used sleeping bag and used down jacket. The truth was, we were returning to countries where we wouldn't need such weather proof gear in the foreseeable future, so renting was this equipment was perfect for us.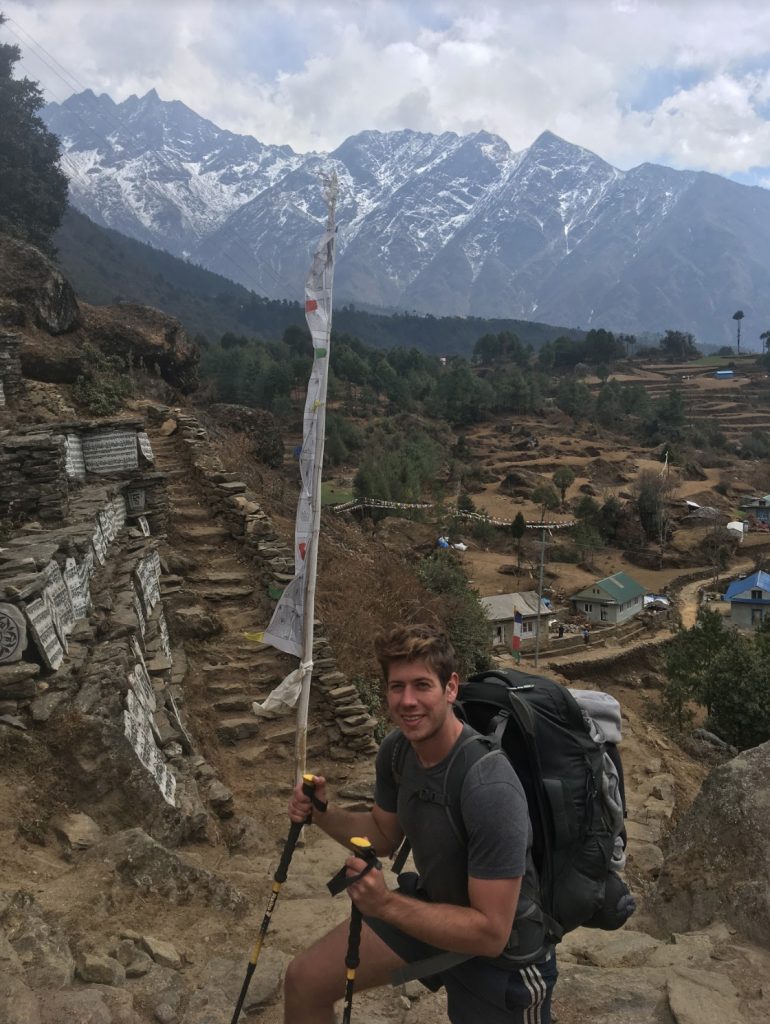 Find below our finalised equipment and items we took with us. Backpack weight was 13.5kg, I could have slimmed mine down a tad as I had a few items I didn't use…
All prices in nepalese rupee (npr)*
Equipment
Yak woollen hat – 350 Rs
Yak woollen socks – 350 Rs (crucial for night time!)
Gloves – gifted to me from a nice french guy from the hostel
Sunglasses – also gifted as above
4x hiking sock – 150 each Rs
Light zipper trousers – 500 Rs (become shorts when unzipped)
2x thermals – 2000 Rs (top and bottoms)
Wind and rain proof trousers – 1500 Rs (shell layer)
Wind and rain proof jacket – 1500 Rs (shell layer)
Snood – 100 Rs
2x carabiner – 100 Rs
Trekking shoes – 150 Rs per day rented
Down jacket – 50 Rs per day rented
Sleeping bag – 50 Rs per day rented
Water bottle – 1000 Rs (can get much cheaper, but I wanted a good quality one for the future!)
Poles – free, as we borrowed these from the nice folk at our hostel at WanderThirst (https://www.hostelworld.com/hosteldetails.php/WanderThirst-Hostels/Kathmandu/277034)
Total purchased: 8000 Rs
Total rented: 4250 Rs
Total cost for equipment: 12250 Rs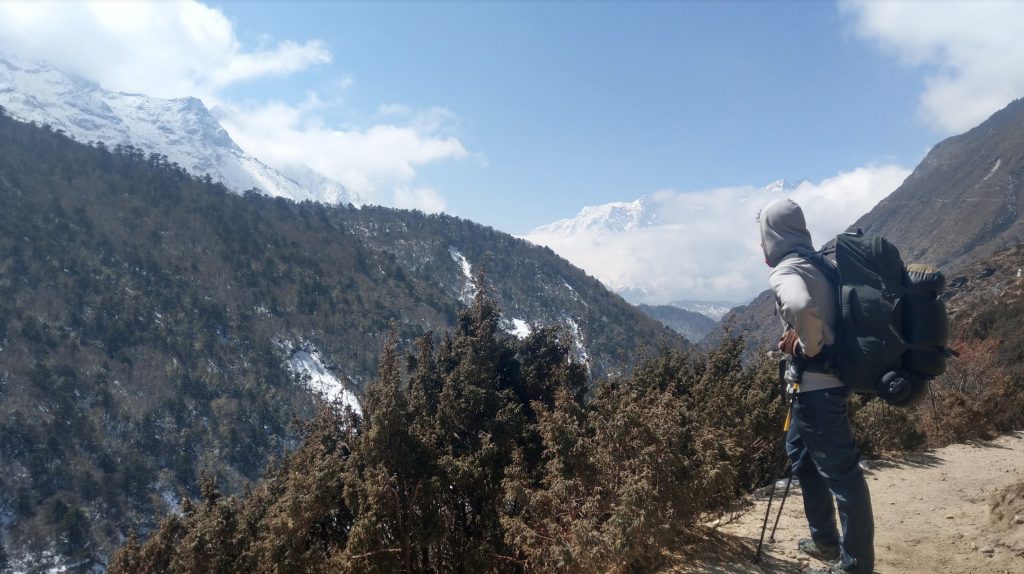 Medicinal / Toiletries / Other
Tang – 4 packs for 300 Rs (Flavoured water to neutralise the purification tablets, makes it taste nicer!)
Diamox – 200 Rs (altitude sickness tablets, didn't end up using this)
Hand sanitiser – 100 Rs
Baby wipes ( 2 packs 150 Rs each)
Paracetamol / ibuprofen – 200 Rs
Water purification tablets – 300 for 100 Rs
Snacks – 1200 Rs (8 packs of one biscuit, 4 packs of cookies and 1 pack of digestives, nuts and trial mix. You will NEED these!)
Tea – 300 Rs for 3 packs, ginger, black and green (ginger is great for altitude sickness!)
Cost: 2500 Rs
Other travel expenses
Bus to Phaplu – 1500
Permits x 2 – 2000 Rs and 3000 Rs
Flight back to Kathmandu from Lukla – $170 usd
Cost: 6500 Rs and $170 usd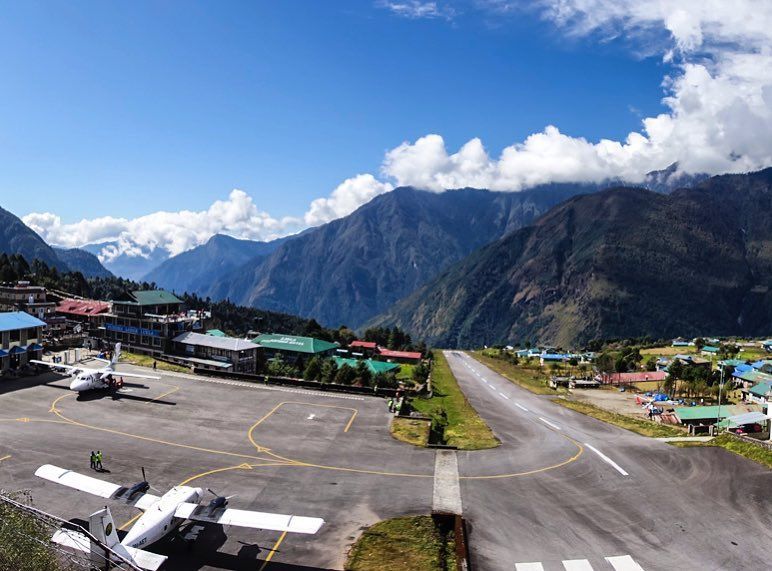 Dining at altitude
When in the Himalayas, staying at tea houses and guest lodges means that you're going to see 99% of the same menus everyday. It's a must to become accustomed to eating Dal Bhat!
Dal Bhat is a traditional national dish – full of energy and flavour. It comes in quite a few varieties however the basis of the dish is rice served with a lentil based soup. In less affluent areas of Nepal, this is a dish people would eat for almost every meal.
The typical Nepalese tourist t-shirt includes the words "Dal Bhat Power 24 Hour", it's that popular!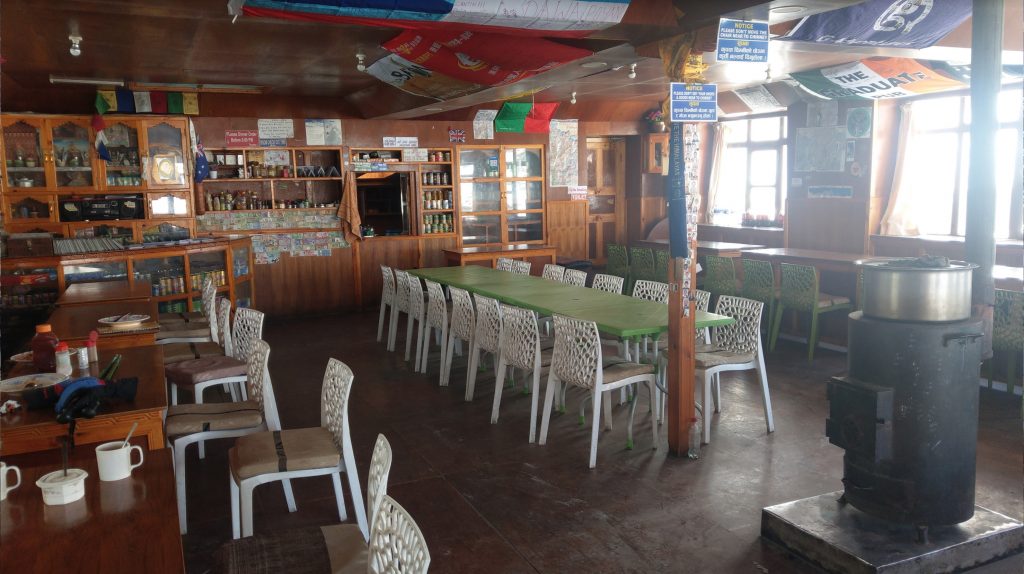 The typical day would be a wake up call at 7am and breakfast served up by the owners of the tea houses/lodges by 7:30am. On the menu would be a selection of heavy carbohydrate based meals in the form of porridge, sherpa stew, noodle soup or even when we were in Namche Bazaar we were treated to beans (Heinz!), eggs and toast. After Namche the food and ingredients start getting a bit more basic.
The menu at most tea houses and lodges were very similar all the way up. The only difference was the prices inflated. To put it in to perspective, Dal bat in Phaplu was around 200 Rs, whilst in Gorakshep we were paying around 1000 Rs for the same dish.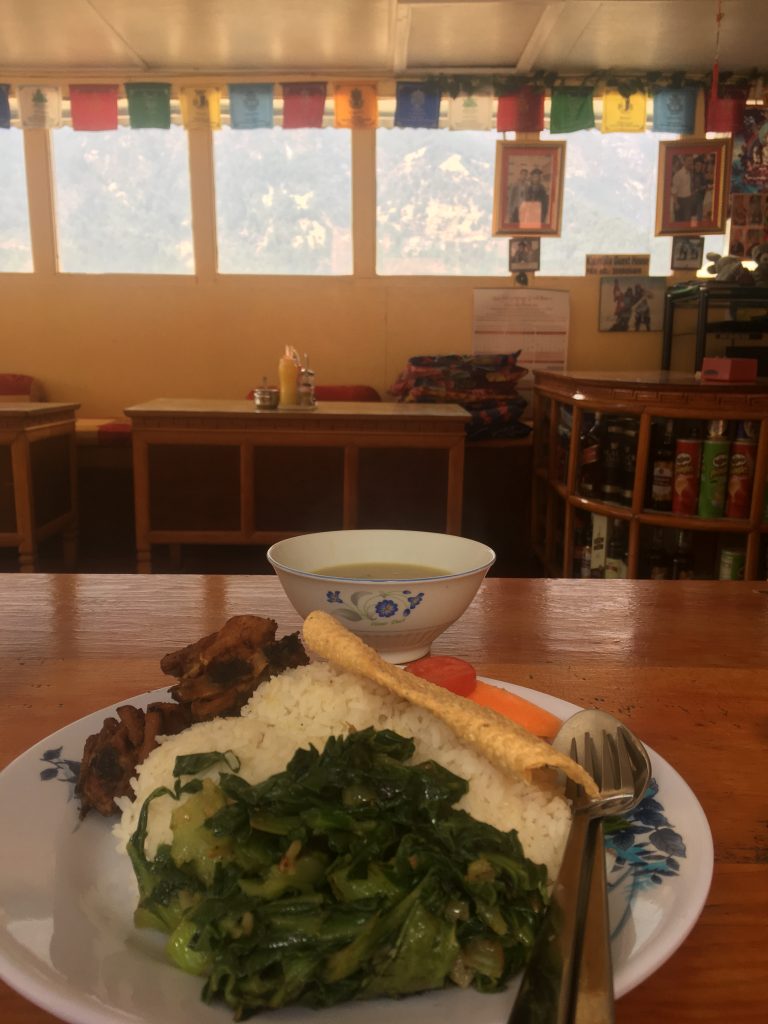 For water we used water purification tablets, we made sure we stocked up on these in Kathmandu before we went. Although we were drinking from the lakes and not really using the tablets. I think being in Asia for the last year had certainly helped our immune system here, so I would recommend taking the tablets anyway! Be sure to let them dissolve for approximately 30 minutes in your water bottle too. We were able to find drinkable water all the way until Gorakshep – there we had to buy bottled water (although frozen) as everything in the tea houses was also frozen (even the fire's chimney at one point!).
Now when most normal people ascend upon a mountain some 5300+ meters above sea level it would be a sensible idea to get two things: insurance and a local guide, locally known as a sherpa.
We had neither.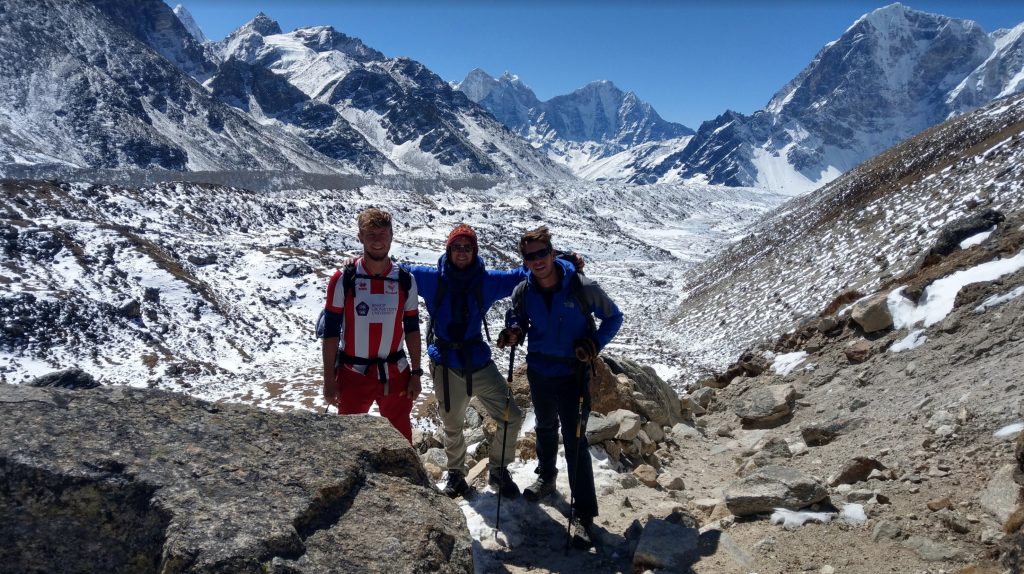 Our insurance company didn't cover us above 3000 meters and it was automatically nullified due to us not having and using an official trekking company. As much as paying for a sherpa wouldn't break our bank too much and it would help the local industry we were on a tight budget and also enjoyed the idea of adventure and doing things 'our own way', experiencing things first hand and not having a strict day to day itinerary planned for us. I would have also felt bad letting someone luggage part of my 13kg rucksack for 16 days.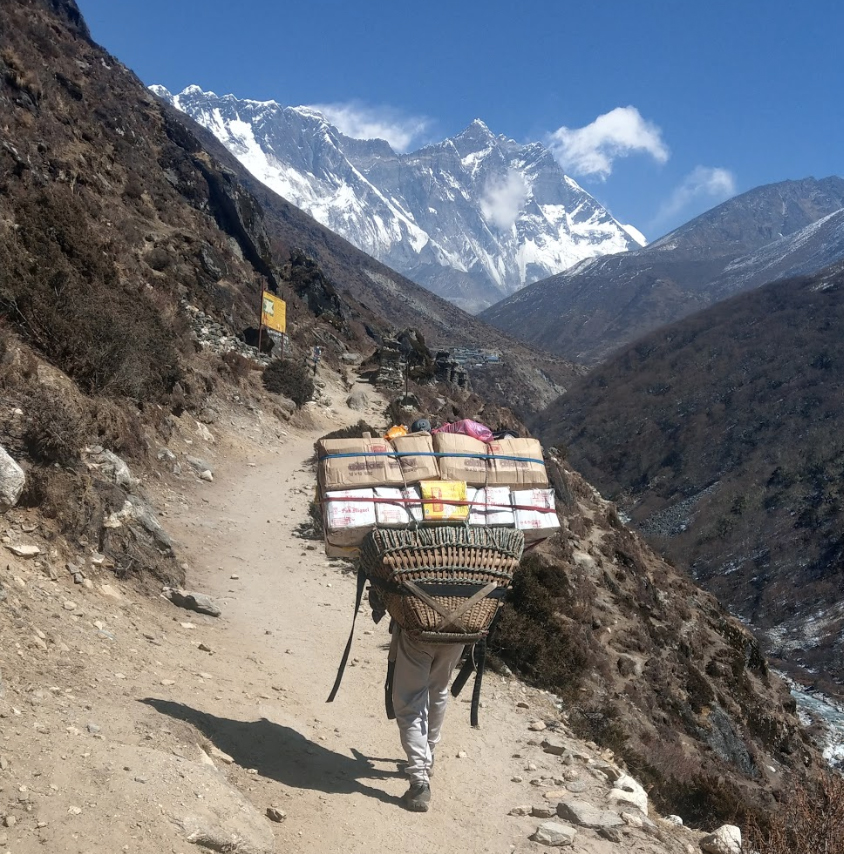 Day to day itinerary
We budgeted for around 2000 Rs per day, although some days you would spend more, and other days you would spend less. This would depend on how far up the mountains you are (also if you had loss of appetite due to the altitude!). Prices inflate based on how high you are, naturally the only way resources and supplies get up are via transportation. Transportation is very limited in the Himalayas, no cars, lorries, bikes – everything is shifted through Yaks/Donkeys or people. This means everything you eat is painstakingly carried up the mountains to the various lodges and tea houses you find yourself eating and sleeping at.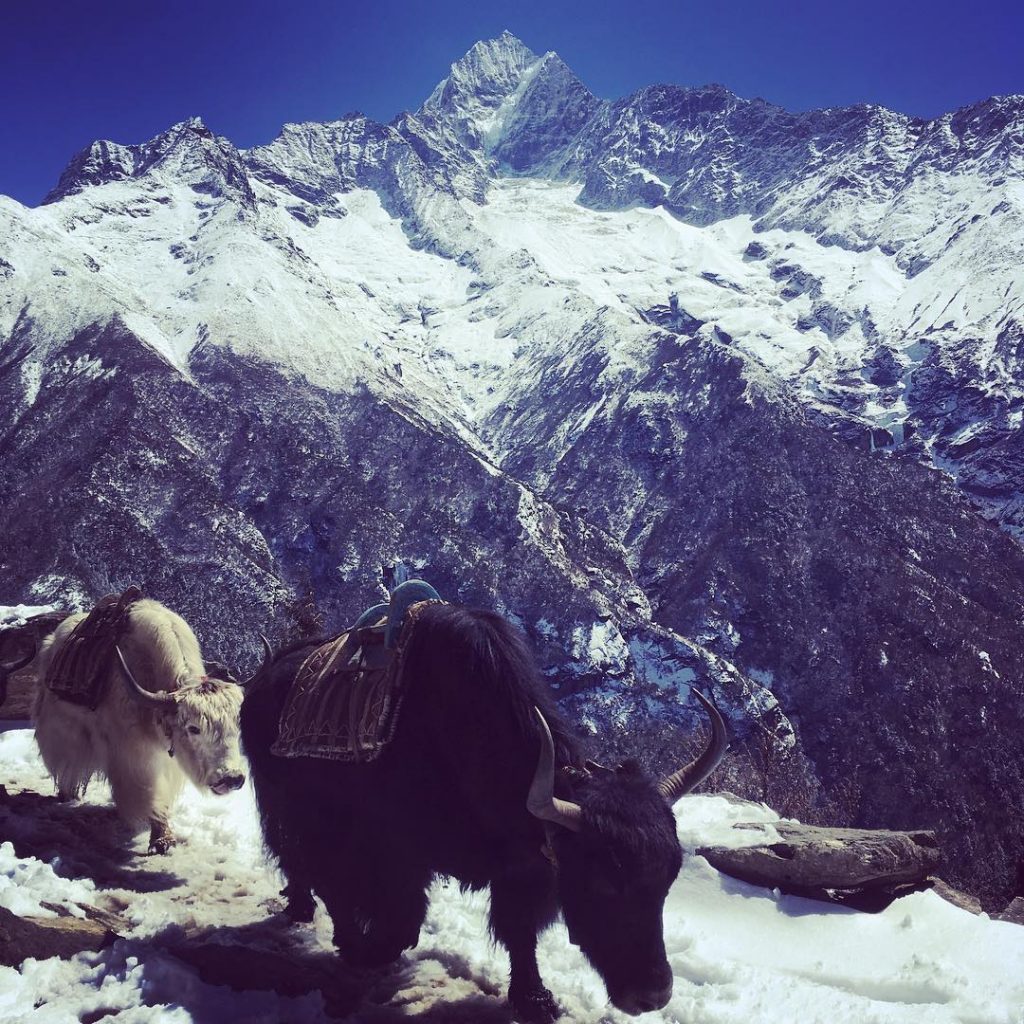 Find below my rough dairy notes of my day to day (excuse the rambling, I plan to notarise these!)
Day 1 bus to Phaplu
13 hour local bus ride from Katmandu to Phaplu – a very bumpy ride with great scenery across the mountains.
Arrived at lodge around 8pm at night after an exhausting but thrilling bus through the countryside.
We spent 200 Rs per person for our accommodation in Phaplu which was happily spent after the long bus ride!
Food 500 Rs (breakfast and dinner) – Veg Curry for dinner and porridge in the morning along with a coffee
Day 2 Phaplu to Kharikhola
First day trekking!
Breakfast at Phaplu, porridge & honey for 250 Rs
The day started with a small trek towards Nunthala. Shortly after we hitchhiked a local Jeep

 

which took us as far as the road could go before it was filled with rocks and we couldn't pass. This gave us extra time in the day to carry on further. From there we began trekking again to Kharikhola.
We had lunch at sunshine lodge, dal bhat for 450 and coffee for 80.
We made it to Kharikhola at about 7pm and it was completely dark and we were all exhausted, I had cramp for most of the end part of the trek. This was an extremely long day!
We stayed in a lodge in Kharikhola, the room was 100 per person. Dinner was a mixed noddle dish which was 450. The portion sizes were enormous so we had the left overs for breakfast. Total cost 550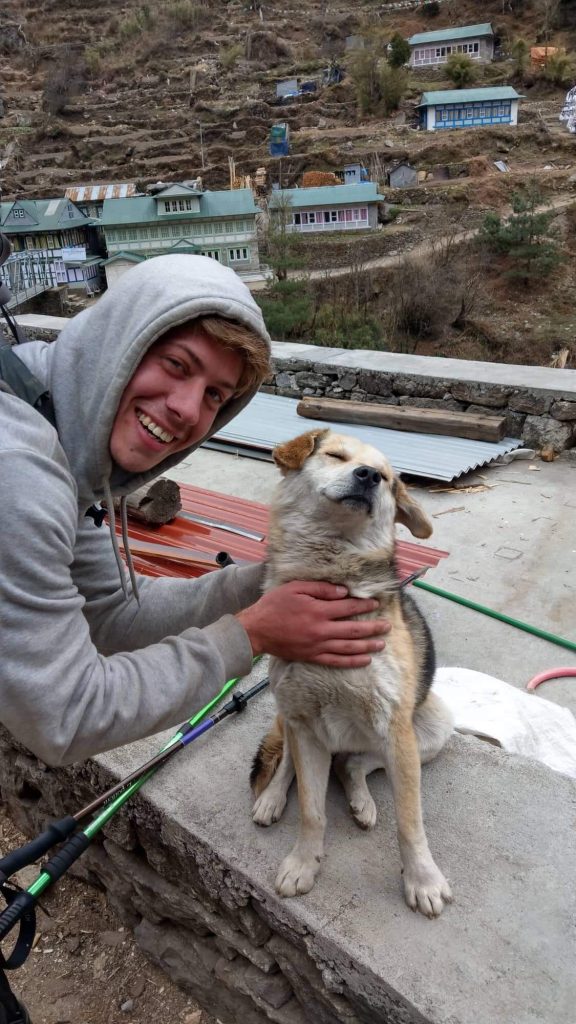 Day 3 Nunthala to half way between Serke and Puiya
Breakfast was left overs from the guest house last night, portion size was very generous in most tea houses!
We arrived in Khurta for Lunch. I had Sherpa stew for 450. Delicious potato based stew with veg and a thick type of noodle
We made it to our guest house as it was getting dark. It was a quiet guest house in between Puiya village and Serka. The stay at the guest house was 150 Rs per person.
Dinner was in the form of mixed macaroni and cheese at 550 Rs. 30 Rs for hot water. 200 Rs for full charge of electronics
This was another long day with a lot of uphill at the beginning of the day, but mostly down and flat towards the end.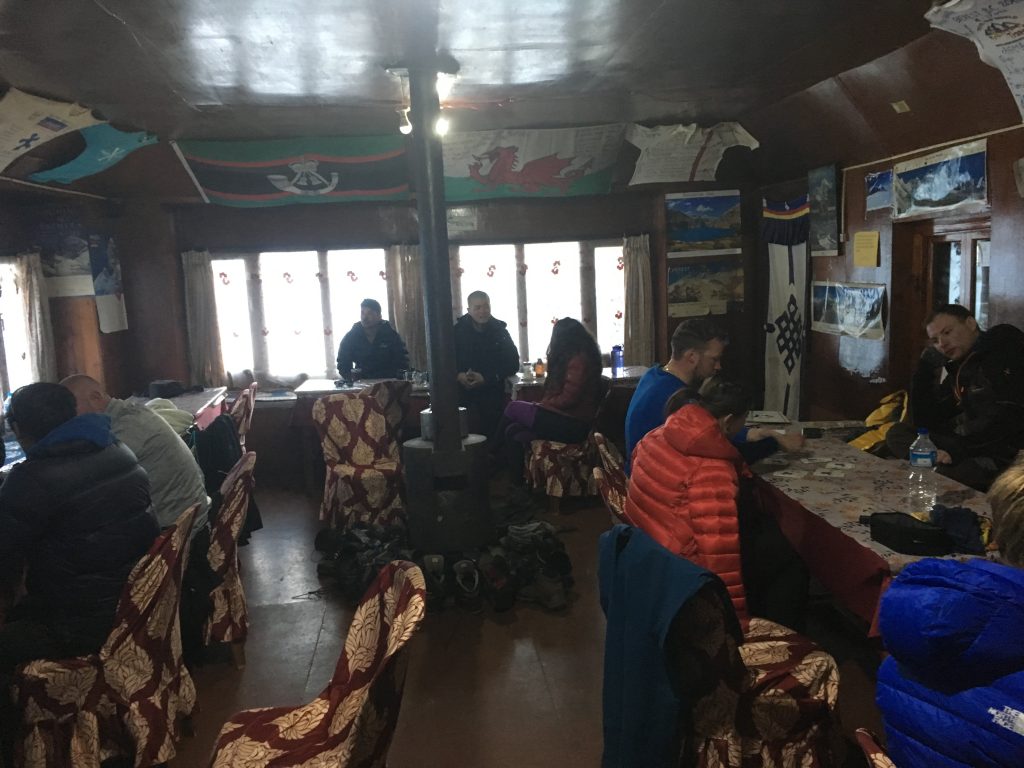 Day 4 Random lodge to Phakding
We started the day having porridge from our guest house. It was literally a woman and her daughter, we were the only other people there. Very rural! Food was delicious and they were very welcoming. First place where they charged for charging electronics.
Breakfast was oat porridge and cost 300 Rs
Lunch time came around 2pm. We found a little guest house in Cheplung

 

where we had our lunch – the guest house was very welcoming and had fruit tea for us on arrival. I ordered the infamous dal bhat and the portion size was huge! I even apologised for leaving a bit of rice.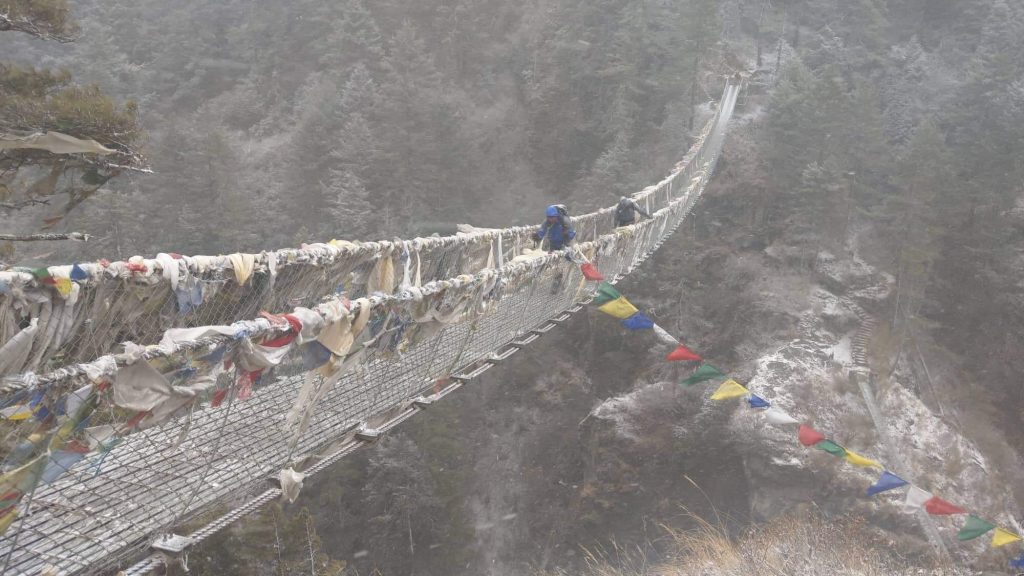 Day 5 – Phakding to Namche Bazaar
7:30 wake up todays walk was going to be 7 hour 30 minutes to Namche Bazaar
Breakfast was Muesli and warm milk at 320 Rs
First day we have woken up and there's been no clear skies. Very cloudy and cold, approximately -2 degrees. Had to put on thermals for the first time.
Weather turned on us about half way through and started to snow. Nothing too heavy but the paths started to become a little unclear.
Had lunch in a lodge just before Namche – 450 Rs for a very large portion of Dal bhat. Had two cups of coffee for 80
Met an English couple (Toby & Rosie!) as we arrived in Namche Bazaar, they suggested we stay at their lodge as it was cheap and beds and food were a good standard.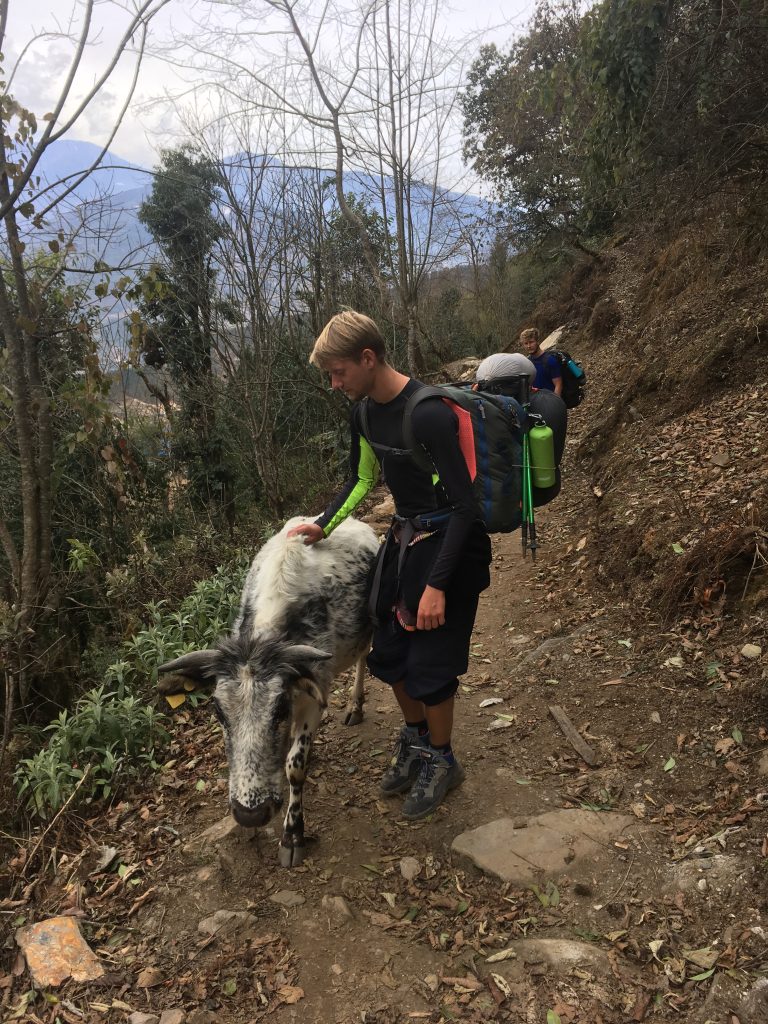 Day 6 – Namche, acclimatisation day
Spent most of the day roaming around Namche between coffee shops and bakeries
Breakfast was beans, eggs and toast 650 Rs
Lunch was a fresh loaf of bread (350) from the bakery and some trekkers soup (70) which I picked up in Kathmandu. This happily fed the three of us!
Dinner was spaghetti at Moonlight View lodge for 600 Rs
In the evening we went to a local bar and watched the film "Sherpas". Had two hot waters and used our own tea which we got from Kathmandu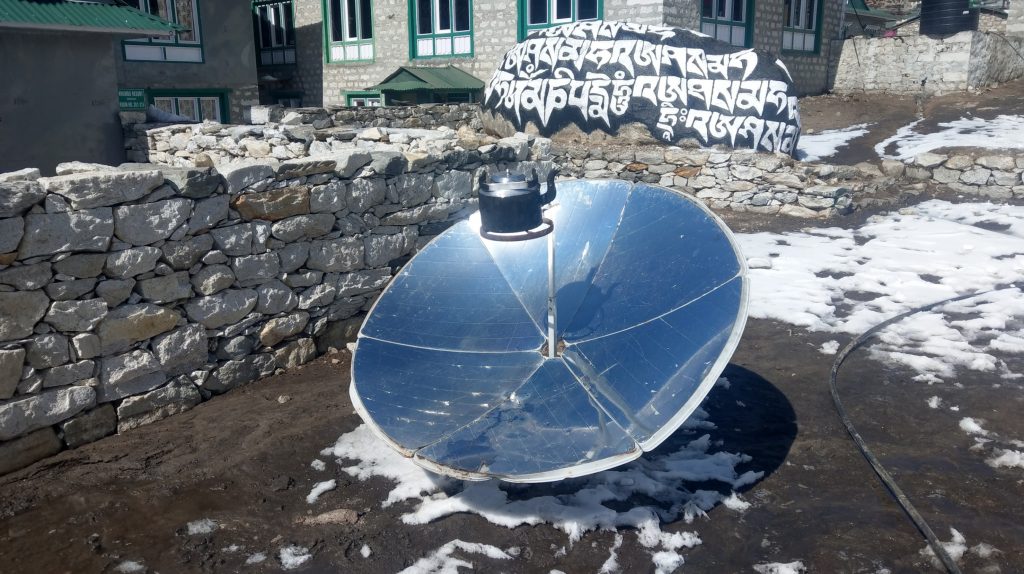 Day 7 – Namche to Tengboche
Breakfast at Moonlight view lodge was two eggs and two rounds of toast costing 550 Rs
Total bill at Moonlight lodge was 2800 Rs for two days with two breakfast and two dinners. Including 200 Rs for accommodation (100 Rs each night).
The trek to Tengboche was approximately 4 hours long
Lunch at a lodge between Namche and Tengboche. Lunch was an egg and cheese sandwich with a side portion of fried potatoes, we ordered a pot of hot water and used our black tea bags
After a steep 600 meter climb at the end of the trek we arrived at Tengboche guest house. Accommodation was free based on eating dinner and breakfast there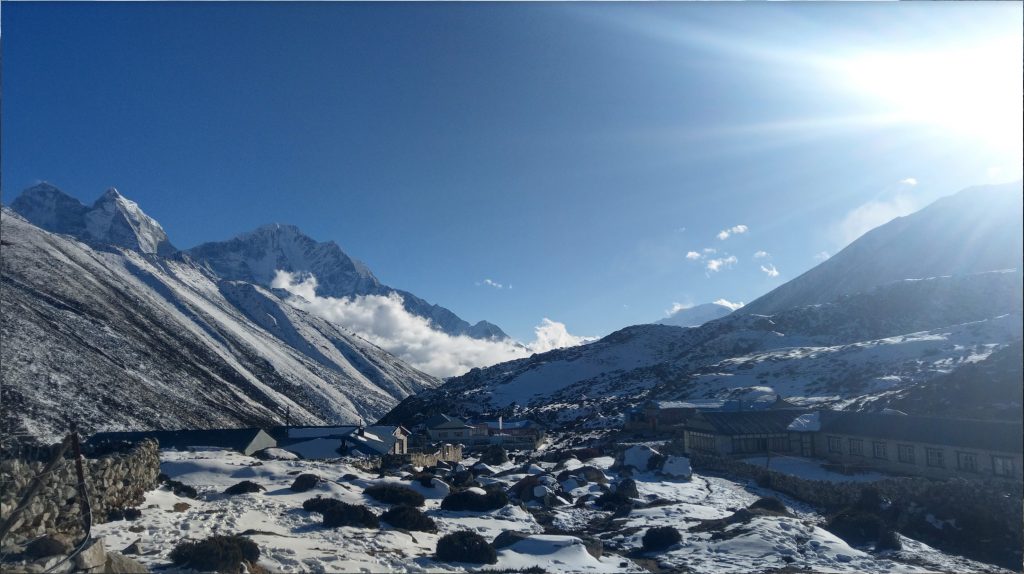 Day 8 – Tengboche to Shomare
Breakfast was porridge with cinnamon and raisins, 450 Rs
Lunch was Sherpa stew in Pangboche, 400 Rs
Dinner was 935 Rs, pizza, dal bhat and macaroni and cheese which was shared between us!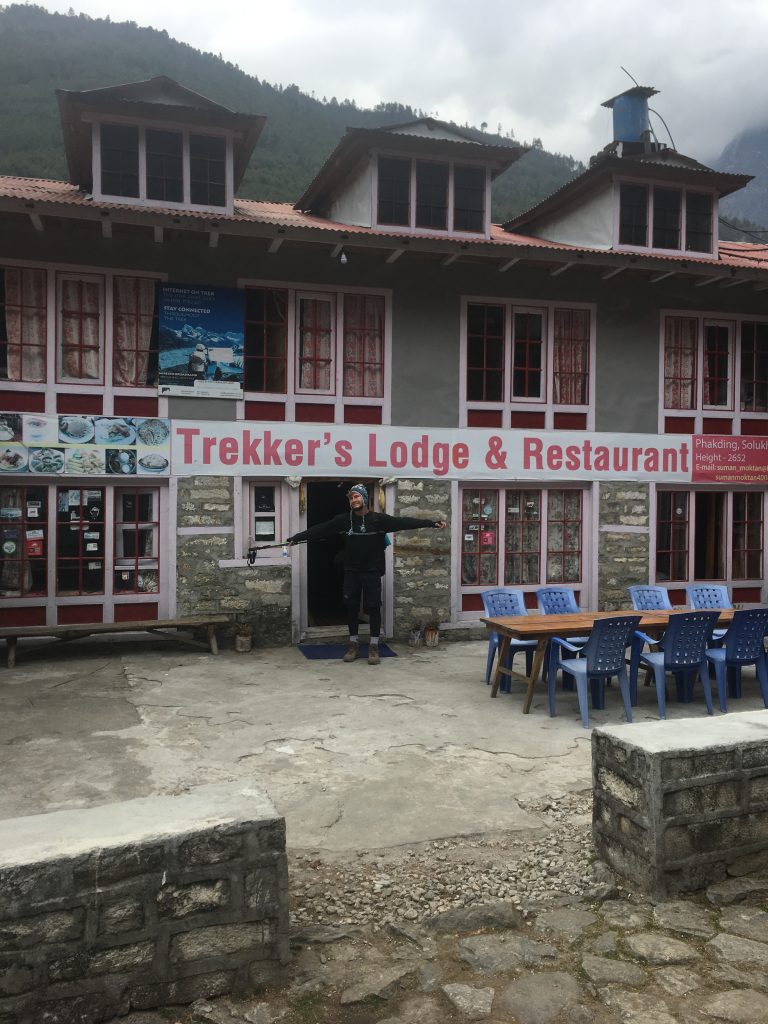 Day 9 – Shomare to Dingboche
Breakfast was porridge for 450 Rs
Easy walk to Dingboche, a gradual up hill walk approximately 1.5 hours and a 250 meter incline.
We arrived at Dingboche around midday, checked in to the Himalayan Culture Home Lodge and Restaurant. This was actually one of my favourite lodges, the people were super friendly and the accommodation was great. Warm rooms and comfortable beds!
Our rooms were 500 Rs between three of us
We weren't quite hungry as we arrived so we went across the road and took refuge in a cafe, had some tea and played chess.
We had lunch at our lodge, we had cheese and potato flavoured Momo's with a side portion of chips. We shared these between two of us costing 550 Rs
Dinner at the lodge was Dal Bhat for 600 Rs. A medium sized pot of lemon tea between four people at 700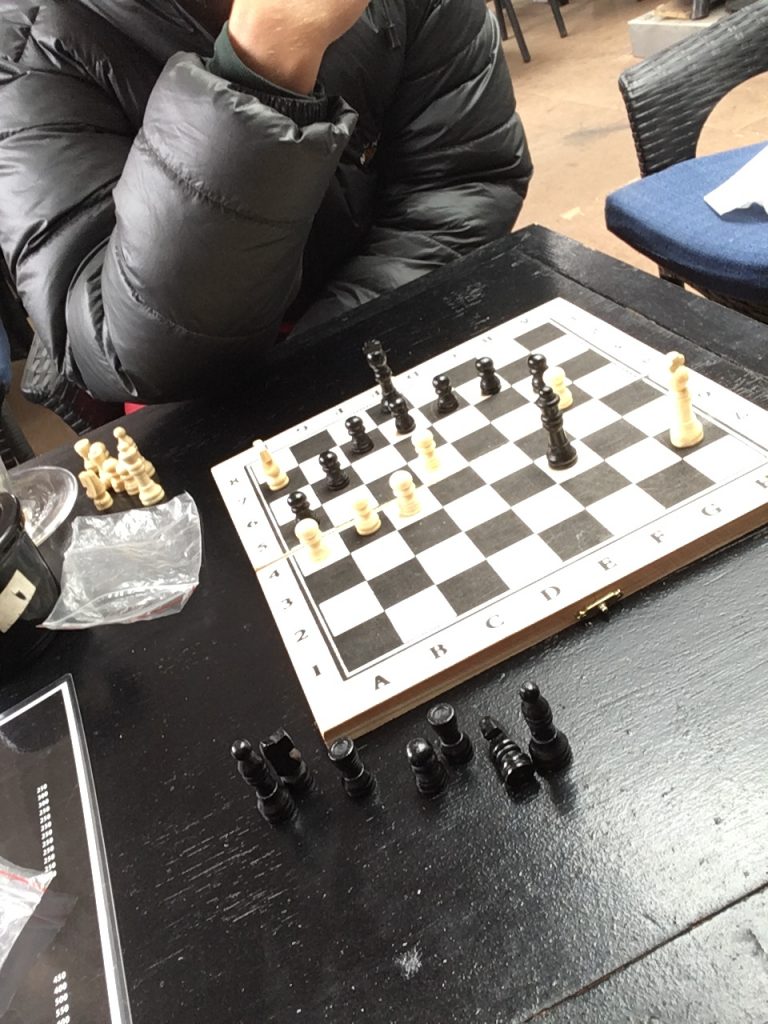 Day 10 – Dingboche acclimatisation day
Had a nice lie in today; woke up at 9am as we didn't need to be anywhere.
Breakfast which was hash brown with cheese and egg at 590.
Dingboche was the first time we've not had signal on our phones
Lunch was fired potatoes with egg and veg at 540 Rs in the lodge
Just after 10am we set off on our acclimatisation walk. It was a high peak view looking over Dingboche and the various other peaks such as Ama Dablam. We reached the peak after a slow 2.5 hour ascent upwards. The high peak was around 5000 meters.
Managed to do laundry at the lodge too. It was 500 Rs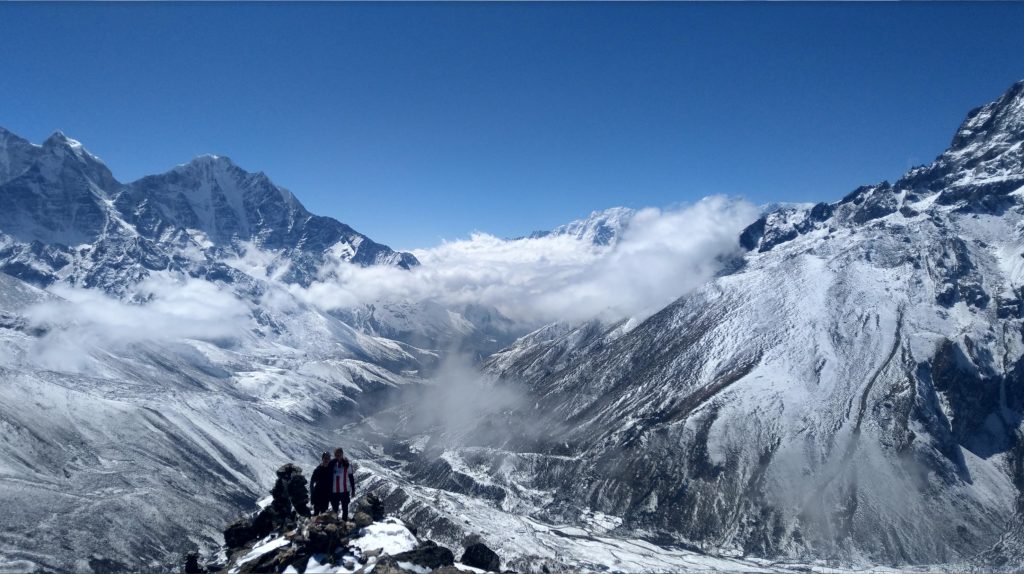 Day 11 – Dingboche to Lobuche
breakfast at the lodge was hash brown cheese and egg, 590
Total bill was 4958 for the two days.
Lunch was a cheese toastie half way between Dingboche and Lobuche. 600 Rs
Fairly easy walk to begin with, steep incline towards the end.
Arrived at Oxygen Altitude guest house, fully brick which meant it was nice and warm!
I had some minor altitude sickness so went and rested. Didn't have dinner as no appetite.
Discovered a new sleeping technique, sleeping bag as duvet and blanket on top. Very warm!
Day 12 Lobuche to Gorakshep then EBC
Woke up nice and fresh with no signs of AMS
Breakfast at the lodge was porridge with honey! A very filing start to the day
The trek from Lobuche to Gorakshep was around 1.5 hours on maps.me Took us just over 2 with regular breaks. It was approximately a 300 meter incline
We arrived at Gorakshep and checked in to our new lodge "Budha lodge"
Had lunch which was fried potatoes, veg and cheese at 600 Rs
Dinner was BYOS (Bring your own soup) and I ordered some side portion of bread.
After lunch we headed to EBC – approx a 2 hour walk from Gorakshep. 250 meter incline
First time we had to pay for cold water (everything was frozen here)
Had signal for the first time briefly, lost it in the evening. Damn the clouds?
Day 13 Gorakshep to Dingboche
The evening in Gorakshep was awful for me, I had terribe tooth pain which I think was due to my wisdom teeth. I had no apetite and struggled to sleep.
Woke up feeling no better, however I knew today I would be descending and hoped that I would start to feel better.
Breakfast was porridge and oats 550
Lunch was Veg curry and chapati between Lobuche and Dingboche for 600 Rs
Arrived in Dingboche at Himalayan lodge same place as last time. Had spaghetti for 600 Rs
Callum and Jakob turned up at 8pm!!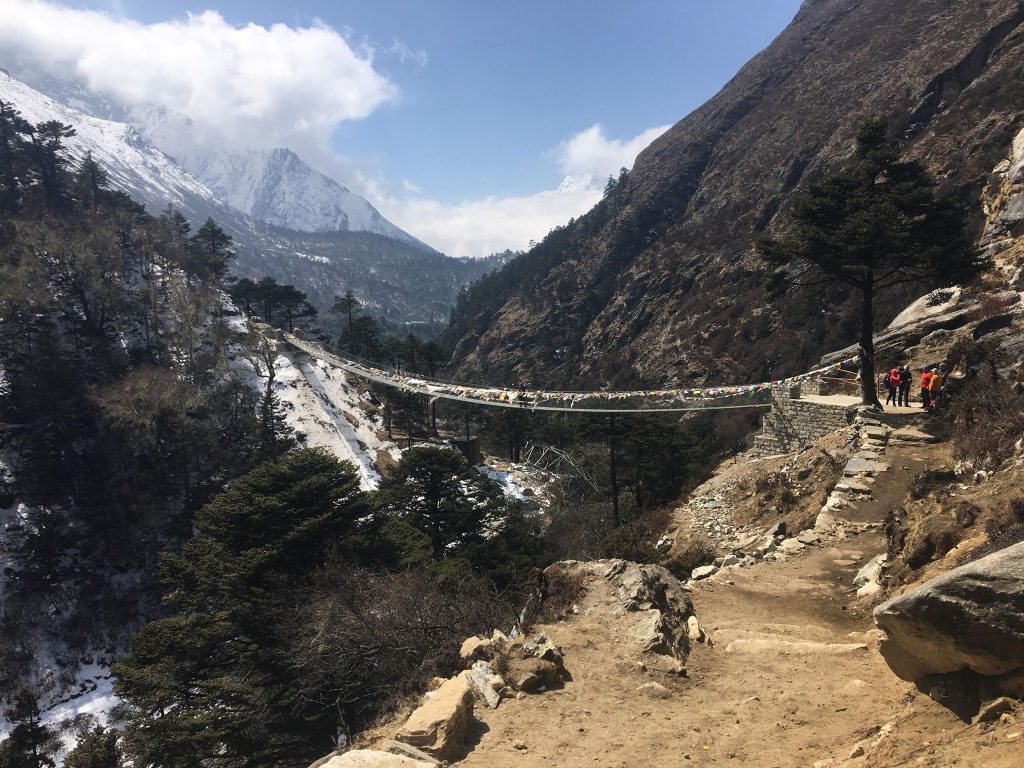 Day 14 – Dingboche to Namche
Best nights sleep in a long time
Headache slowly going same with teeth pain
Breakfast was porridge oats and honey. 450 Rs
Lunch was fried potatoes and veg/cheese in Tengboche for 600
Arrived in Namche Bazaar and checked in to moonlight lodge again.
Put down our bags and headed to Nak Cafe where we watched football and charged our electronics
Had food in the cafe, Chicken burger for 550 Rs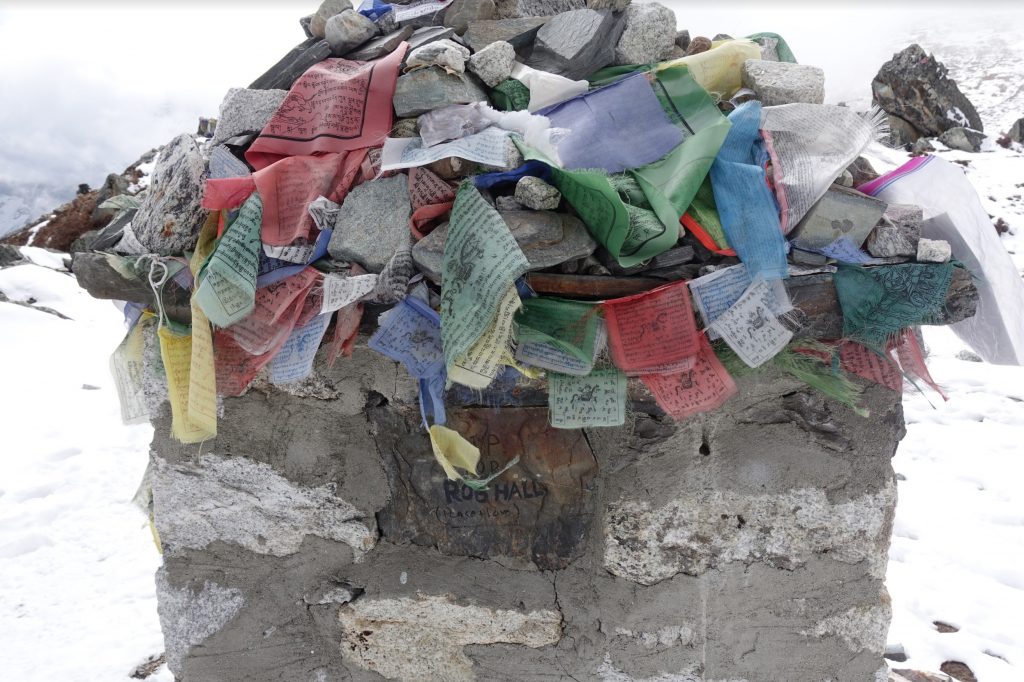 Day 15 – Namche rest day
breakfast was soup at the bakery – 350 / 3 bread
Lunch pizza at nak cafe 600 Rs
Dinner veg soup at lodge – 320 Rs
Day 16 – Namche to Lukla
Breakfast at lodge eggs beans toast, 650
Bill at lodge 1250 Rs
Lunch at Phakding – momos, fried rice, 700
Day 17 – Lukla to Kathmandu
Woke up at 6am for our flight back to Kathmandu
The flights are generally based on whenever the mountains are clear. There are no aeroplanes kept at Lukla airport. After around 2 hours of waiting to see an aircraft land all of a sudden 8 planes landed in to Lukla
Everyone was rushed on to their planes to which they were turned around and then took off again.
It was a surreal airport experience for sure!